PHILOSOPHER
TEACHER
SPEAKER
WRITER
COUNTERPOINT with Amanda Vanstone
"By allowing for diverse viewpoints, we can learn things about ourselves and the world that would otherwise slip under our radar."
Counterpoint examines a range of social, economic and cultural issues in Australian life — challenging some widely held assumptions, and introducing some new and some seldom-heard commentators.
I'm a philosopher. I work on important human questions that can't be answered by the methods of science. I teach at Fort Lewis College in Durango, Colorado. Much of my research focuses on helping ordinary individuals and political bodies to think consistently and carefully about the problems they encounter, the values they embrace, and the evidence they've gathered.
SPECIALIZATIONS & COMPETENCIES
History of Philosophy
Metaphysics
Logic
Ethics (Applied and Meta)
Philosophy of Religion
Epistemology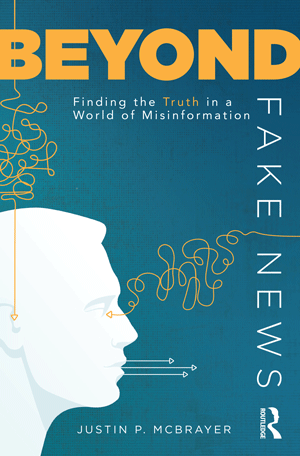 NEW BOOK!




BEYOND FAKE NEWS
Finding the TRUTH in a world of misinformation
Why do we face a fake news problem, and what is the solution? Part of the explanation is improved technology along with mental blindspots. But another part of the story is the fact that others have incentives to deceive us and we ourselves often lack incentives to get to the truth when it comes to topics like politics, religion, and alternative health. But we can do better, both as individuals and as a society. I show how to do both. As consumers of the news, we can trust ourselves on some topics and learn how to identify the experts for others. As a society, there's a lot we can do to clean up our informational environment and limit the damage of fake news.