PHILOSOPHER
TEACHER
SPEAKER
WRITER
I'm a philosopher. I work on important human questions that can't be answered by the methods of science. I teach at Fort Lewis College in Durango, Colorado. Much of my research focuses on helping ordinary individuals and political bodies to think consistently and carefully about the problems they encounter, the values they embrace, and the evidence they've gathered.
SPECIALIZATIONS & COMPETENCIES
History of Philosophy
Metaphysics
Logic
Ethics (Applied and Meta)
Philosophy of Religion
Epistemology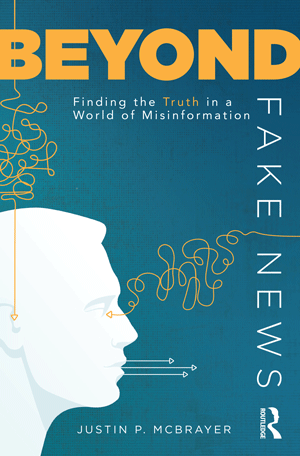 NEW BOOK!




BEYOND FAKE NEWS
Finding the TRUTH in a world of misinformation
Why do we face a fake news problem, and what is the solution? Part of the explanation is improved technology along with mental blindspots. But another part of the story is the fact that others have incentives to deceive us and we ourselves often lack incentives to get to the truth when it comes to topics like politics, religion, and alternative health. But we can do better, both as individuals and as a society. I show how to do both. As consumers of the news, we can trust ourselves on some topics and learn how to identify the experts for others. As a society, there's a lot we can do to clean up our informational environment and limit the damage of fake news.
Good leadership requires courage, clear-thinking, and fairness. This is especially true in the academy where there are multiple stakeholders, each with their own priorities, and a commitment to shared governance. It turns out that Plato was right: training in philosophy is training for good leadership! I bring the skills I have honed as a philosopher to bear on the problems facing the communities I lead. That includes the School of Arts & Sciences at Fort Lewis College and the Society of Christian Philosophers.
Society of Christian Philosophers
EXECUTIVE DIRECTOR
Society of Christian Philosophers
CHAIR
Department of Philosophy & Political Science
Fort Lewis College
Explaining Religion Project
John Templeton Foundation
EXECUTIVE COMMITTEE
Society of Christian Philosophers
BOARD MEMBER
Board of Trustees
Fort Lewis College
Faculty Senate
Fort Lewis College
MEMBER
Vestry
Saint Mark's Episcopal Church
DIRECTOR
Religious Studies Program
Fort Lewis College
Academic Standards Committee
Fort Lewis College
Animas Hall
Fort Lewis College
COMMITTEE MEMBER
Organizational Strategic Planning Committee
Fort Lewis College